As already mentioned in one of our previous blog posts we use a number of collaboration tools that ease our every day work. In this blog post I would like to share some insight about the way we use Trello boards for our projects. 
As you might well know Trello is a web based project management tool which works by organising projects into boards, lists and cards, where each board represents a single project. The clear structure of the boards makes it very easy to visualize task flow. 
In our projects we allow our clients full access to the board associated with their project. This not only ensures transparency as all the board members can see the status of every task at any moment, but it also eases the communication with the clients and allows us getting the feedback faster. 
By setting up your board Trello will suggest you three essential lists – ToDo, Doing and Done. Based on our experience we've come to the conclusion that this is our winning combination when it comes to Trello lists: 
– To Do – contains all the tasks that need to be done, where the tasks are sorted by priority (the most important ones should be on the top of the column), but sometimes we also use labels to emphasize the priority of single tasks
– In Progress – shows tasks that we are currently working on
– Testing – shows all the tasks that are being tested by us. If the task needs additional work or adjustments it will be moved back to ToDo or In Progress and if everything works as intended the task will be moved to the next column, i.e. Customer Review
– Client Review – shows tasks that were tested and approved by us and should be tested by the client
– Done – contains tasks that were tested and approved by the client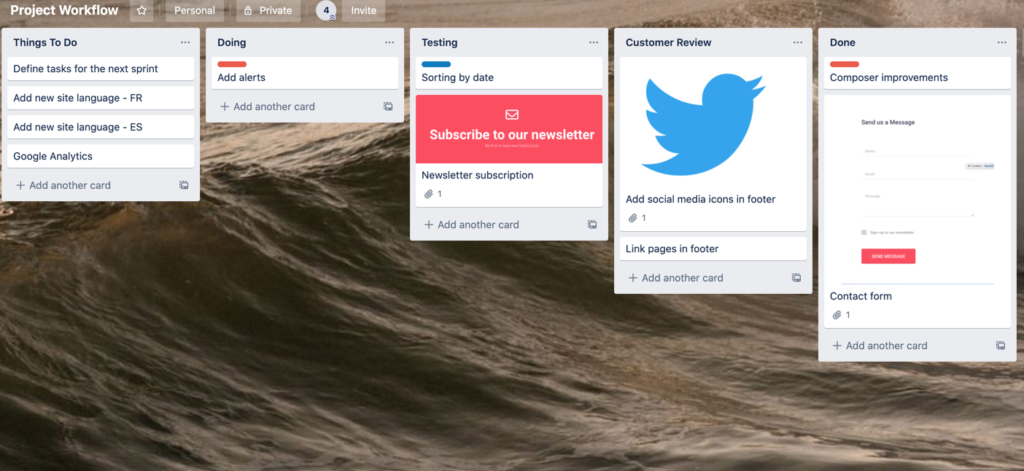 This pretty simple workflow can sometimes be extended or modified based on the project requirements and practices. 
What are your Trello best practices? Feel free to share your tips and trick with us using the Comment section.